Explore the Latest HUAWEI Software Update
Hey everyone,
Huawei introduced the EMUI 11 at its HD opening keynote last year and now the update is being rolled out to Huawei Smartphones in batches
So, let's take a look at what features the EMUI 11 has to offer us and how you can benefit from them:
1. Always-on Display:
Although the Always-on display is limited to screen having OLED displays. Huawei has invested a lot in adding a bunch of new Always-on Animations and Screens with the option to customize.
You can see some options to customize the always-on animations with different geometric patterns and gradients.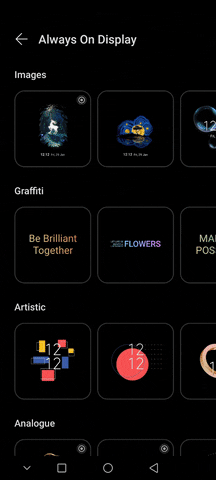 Click the link below to learn more ~
New Artistic AOD Design for EMUI 11 Update
2. Fluid Animations:
Huawei has worked really hard to improve the overall animations experience from EMUI 10 and invested a lot in making the animations more human-centric.
The way things zoom to fill the screen and how different items on the screen are highlighted makes it really convenient for the users to stay focused on the task at hand.
Another interesting feature of EMUI 11 is the option to set your Phone vibrator synced with the currently set ringtone.
Click the link below to learn more ~
EMUI 11 Comes with a Screen-on Animations
3. Multi-tasking:
This probably is one of the biggest updates that comes with Huawei EMUI 11. Multi-tasking is more fun now with the ability to resize the floating windows. You also have the ability to minimize the floating windows that converts into a small button at one side of your screen and can be resized with one touch, how convenient is that?
Click the link below to learn more ~
Multitasking is easier with Multi-screen Collaboration on EMUI 11
4. Multi-Screen Collaboration:
In today's digital age it is hard to keep track of all your devices. Imagine working on your Laptop and missing an important call on your Smartphone because you put it in another room. Huawei came up with an amazing solution to this problem as it gives you the ability to control your Smartphone using your Huawei Laptop/Tablet. Although this feature was made available in EMUI 10.1 but with the latest EMUI 11 you have the ability to control 3 apps at a time (limited to Huawei Matebook & Honor Magicbook).
If you are using a Huawei/Honor Laptop, you can turn apps into floating windows and drag, drop files from phone to laptop or directly edit them on your laptop.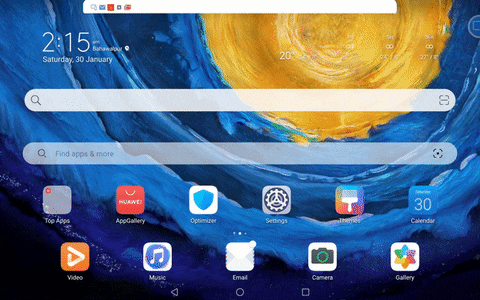 Furthermore, make and receive voice and video calls from laptop/tablet using either your Laptop or Phone Camera
Click the link below to learn more ~
Multitasking is easier with Multi-screen Collaboration on EMUI 11
5. Notepad – Now Supports Document Scanning:
The newly updated Notepad App now lets you scan documents, it's now equipped with OCR technology. This means that you can also edit the scanned text from the document that you have captured using the Notepad "Scan document" feature.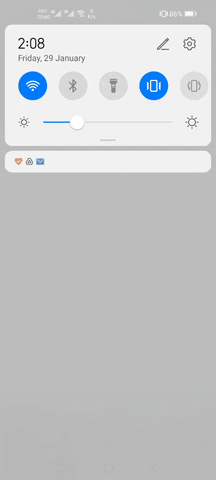 Click the link below to learn more ~
Update to EMUI 11 and Unlock Handy New Notepad Features
6. Video-editing
Before the update, the video resolution options can be accessed from the Edit tab. After the update, you can select a video resolution when you touch the Save icon after finishing editing.
Click the link below to learn more ~
[EMUI 11 changes] What's changed in video editing features in Gallery after EMUI 11 update?
7. One-Handed Mode
In certain large-screen phones, navigating the screen single-handedly may not be easy. Switch to One-Handed mode so you can make your screen smaller within easy reach. Let's see what changes EMUI 11 brings to One-Handed mode.
Click the link below to learn more ~
EMUI 11 One-Handed Mode Makes it Even Easier to Hold Your Phone
8. Volume Settings
Before update EMUI 11, the ring-shaped icon that was present at the top of the volume bar allows for switching between Vibration, Silent, and Sound modes. When switching from Silent mode to Sound mode, two-volume bars would appear, for adjusting the media and ringtone volumes respectively.
After update EMUI 11, to prevent possible misoperations, the ring-shaped icon has been removed in the new version. From the displayed volume bar, you can drag the slider to adjust the media volume and touch the gear-shaped icon to go to the related setting screen.
Click the link below to learn more ~
[EMUI 11 Changes] Main Changes on Volume Settings and Incoming Call Ringtone!
9. Battery Settings
Battery management has been further optimized in EMUI 11 as follows:
1. The Battery usage and Power consumption details are updated to POWER CONSUMPTION DETAILS. The POWER CONSUMPTION DETAILS section only displays the information of the last 24 hours, as opposed to the last 48 hours in the case before the update. (Note: Details are not available during the time periods when the device doesn't consume power, such as when it is powered off or idle.)
Click the link below to learn more ~
[EMUI 11 changes] What changes in Battery settings after the update?
10. Vibrate Synchronously
EMUI 11 update brings lots of new and cool features. Such as artistic theme, AOD, long-take animation, and multi-window. But there's still another interesting change after EMUI 11 most of us may don't know. That is custom vibration. What's it? You may ask. Short to say, your phone can vibrate synchronously with system ringtones now when you have an incoming call.

Why not try now? Go to Settings > Sound & vibration > tap Phone, Messaging or Notification ringtone > tap Vibration then choose Synchronized.
Click the link below to learn more ~
[EMUI 11 changes] Vibrate Synchronously with System Ringtones
11. Privacy & Security
1. Content Only You Can View
Your phone can recognize you, and safeguard on-screen content from prying eyes. This intelligent feature can hide the notification details and re-lock the apps if it detects that someone else is looking at your screen.
2. Undisturbed screen projection
3. No more annoying ads
4. Share Your Life, Not Your Data
Click the link below to learn more ~
What's New in Privacy and Security on EMUI 11
Check out the link below to find the complete EMUI 11 update schedule for each region and for different HUAWEI Smartphones!

Have you already got EMUI 11 on your device? If yes, let us know your favorite update! In case you are waiting for the EMUI 11 update on your phone, do let us know which feature are you excited to use the most!

The attachment will be visible after login.
Last Edit: 28/02 18:22
---